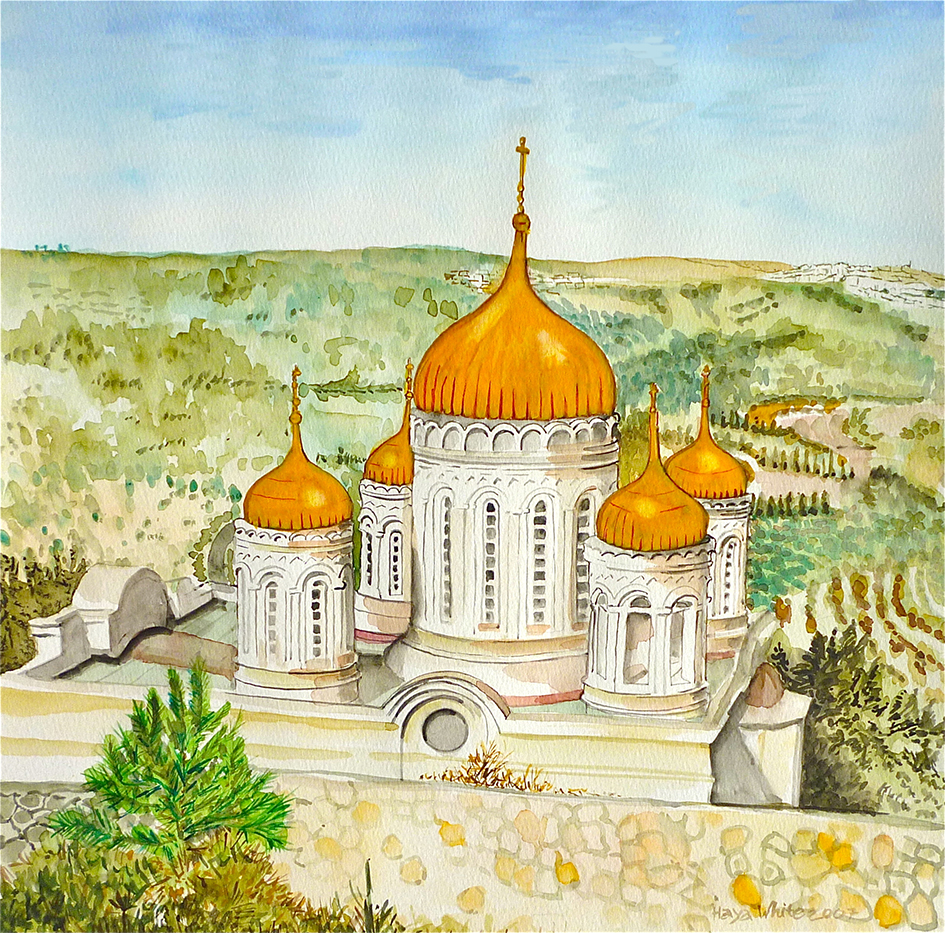 The Russian Church
$400.00
Gorny convent of Russian Ecclesiastical Mission in Jerusalem. Ein-Karem district, 4 km south-west of Jerusalem.
Here, right after the Annunciation the Most Holy Mother of God came from Nazareth for visiting her relative, St. Elizabeth (mother of St. John the Baptist). She wanted to share her pleasure about the nearest birth of the Saviour from Her (Luka. 1 : 39-45). According to the legend, Gorny convent is situated at the place of St. Zachary and St. Elizabeth's house. In the center of the settlement Ejn-Karem the Most Holy Virgin took some water from the spring, which exists there till nowadays.
The road from the spring of the Most Holy Virgin Mary leads to Russian Gorny convent. Its foundation and further development are directly connected with the name of the chief of Russian Ecclesiastical Mission, archimandrite Antonin (Kapustin). Here in 1871 archimandrite Antonin bought two buildings and extensive olive tree plantation. Then buying adjacent lands, the territory was considerably widened. Later there was built a shelter for Russian pilgrims. Subsequently, Russian nuns started to live here, and the shelter became a separate convent. At the direction of archimandrite Antonin all the pilgrims, who wished to settle here, had to build houses and make the gardens around them (practically out of nothing), using their own money. That's why there are no blocks with monk's cells, but some separate lodges on declivity of the mountain instead.
The first stone church of the convent was built at the beginning of 1882. It was consecrated on 30 March 1883, in honor of Meeting the Most Holy Virgin Mary with St. Elizabeth. This holiday, which was approved by the Holy Synod, became to be known as "Mary's Kissing" or "Mary's Incoming to Gorny city of Jude". By the edict of the Holy Synod the celebration of this holiday is stated on 30 March if the Annunciation doesn't coincide with the days of Holy Week.
Later after the miraculous saving of convent sisters from the epidemic of cholera, one of the most famous icons of the Mother of God called "Kazan" became specially revered here. That's why the convent primary church started to be named in honor of this icon.
Options

Large - Poster size (30cm x 42cm)

,

Small Mounted Print (24cm x 28cm)

,

Stretched Canvas Print - Ready to Hang (30cm x 30cm)

,

Original Watercolour on Acid Free Paper (30cm x 40cm)